Spin cycle 01/18/07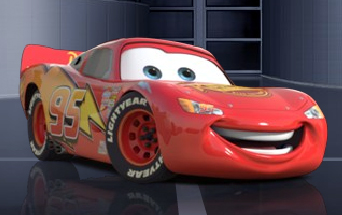 Lightning McQueen!
Some of the music from today's ride was from the movie Cars. With a 4.5 yr old boy around, this movie is getting some serious air time at my house. Hell, my 2 yr old girl loves it as well.
I like the movie score, and so a section of my ride today that I'll call the Cars Suite, was original score from the movie, composed by none other than Randy Newman.
The class had the feel of movement, and was fast paced with a steady "onward" type of flow.
I was paid a very nice complement after class by a woman who said it was the best class that she had taken in a long time, that the music was great, and that she appreciated my choreography to the music I played. Makes that 5am wake up call worth it, indeed.
1. A Million Ways - OK Go
2. Jung at Heart - Master Cylinder
3. Cars Trucks Buses - Phish
4. Real Gone - Sheryl Crow
Cars Suite:
5. New Road - Randy Newman
6. McQueen and Sally - Randy Newman
7. The Big Race - Randy Newman
8. Opening Race - Randy Newman
9. The Piston Cup - Randy Newman
10. Life is a Highway - Rascal Flatts
11. Low Rider - War
12. Stupid Girls - Pink
13. Bus Driver - Assembly of Dust
14. Race for the Prize - Flaming Lips
15. Get the Party Started - Pink
16. You're So Damn Hot - OK Go
17. Walk Along the River - Laurie Berkner
18. I'm Gonna Catch You - Laurie Berkner
19. Wimoweh (The Lion Sleeps Tonight) - Laurie Berkner